Download one-sheet
Construction
BUILDING VALUE.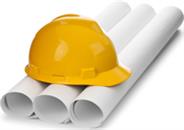 Katz, Sapper & Miller has helped grow numerous construction companies from start-up to success. We serve more than 75 clients in all phases of the construction industry. Whether you are a general contractor or a subcontractor, we want to be your trusted advisor.
Our firm's affiliation with a national network, the Construction Industry CPAs/Consultants Association (CICPAC), allows us to help you with operational audits, strategic planning, mergers and acquisitions, and technology solutions.
Our services for the construction industry include:
Analysis of insurance coverage
Benchmarking
Business technology services
Buy/sell agreements
Cash flow and WIP job cost analysis
Claims dispute resolution
Compensation analysis
Contractual audits
Equipment maintenance programs
Multistate contractor pre-qualification rules and compliance
Process reviews
Relationships with bonding agents, sureties, banks, and other financial institutions
Strategic planning
We understand the unique challenges contractors face every day, including labor shortages, OSHA compliance, income taxes, tough competition, and shrinking profit margins. We will help you meet these challenges with sound business, tax, financial, accounting, and technology advice.