Miller Named an Emerging Leader in Mergers & Acquisitions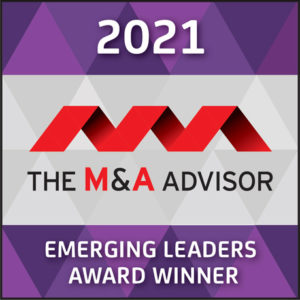 Jennifer Miller, director in Katz, Sapper & Miller's Transaction Advisory Services Group, has been named an Emerging Leader by The M&A Advisor.
The M&A Advisor's Emerging Leaders Award recognizes and celebrates the achievements of young merger and acquisition (M&A), finance, and turnaround professionals who have reached a significant level of success in their careers and who make notable contributions to their industry and community. The 2021 winners will be introduced and celebrated at an awards gala on Wednesday, Oct. 20 at the New York Athletic Club in Manhattan.
Miller's extensive transactional experience in a variety of roles, including commercial finance, corporate development, and public accounting, makes her into a well-rounded advisor for her clients. In addition to being an active contributor to firm growth, she is passionate about mentoring younger colleagues. Miller also founded the Association for Corporate Growth Indiana chapter's Women in Transactions group, a networking group with the mission to empower and connect women and increase female participation in dealmaking.
"Jennifer has helped transform the transaction advisory group into one of the fastest-growing practices at KSM," said Mike North, partner-in-charge of KSM's Transaction Advisory Services Group. "Through her leadership, our processes have become more efficient, we've cultivated more extensive relationships in the deal community, and we're a stronger, more cohesive team. We're so proud of Jennifer, and she could not be more deserving of this award."
The M&A Advisor is a worldwide network of M&A, restructuring, and finance professionals, and the organization routinely facilitates connections between dealmaking professionals, provides global thought leadership and insights on industry activities, and honors industry achievement.
For a complete list of the 2021 Emerging Leaders, click here.
We're Looking for
Remarkable People