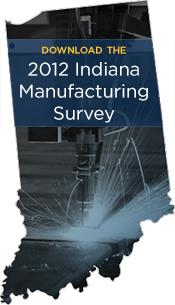 Indianapolis, Ind. – The certified public accounting firm of Katz, Sapper & Miller LLP today released the results of their annual Indiana manufacturing survey. This study of small- to medium-size manufacturing companies was commissioned by Katz, Sapper & Miller and developed in partnership with Indiana University's Kelley School of Business – Indianapolis, Conexus Indiana, and the Indiana Manufacturers Association.
The results from this year's survey, 2012 Indiana Manufacturing Survey: "Halftime" for Indiana Manufacturing, indicate that Hoosier manufacturers are stronger this year than at any point since the Great Recession, and are well positioned to compete in the coming years.
"Fundamental changes are continuing to take place across manufacturing in all kinds of capabilities," said Scott Brown, partner-in-charge of Katz, Sapper & Miller's Manufacturing and Distribution Services Group. "Businesses are starting to invest for growth, including facilities and automation, with an eye toward providing customers increasing quality at lower prices. While many Hoosier manufacturers have managed to survive the effects of the recession, challenges remain. Of course, not all manufacturers have found the perfect winning strategy, but many are heading in the right direction and some are excelling during these challenging times."
Other key findings reveal:
Hoosier manufacturers have largely shaken off the effects of the Great Recession and have stabilized their businesses. A significant majority of Indiana's manufacturers now report that their business is either "healthy" or "stable" with tougher times behind them.
Survey results indicate that the past's relentless rounds of downsizing are over, and while that approach worked well when mere survival was paramount, it is hardly a winning strategy for the future.
Many Hoosier manufacturers now recognize that the winning strategy is targeted investment aimed at growth. Over 70% of respondents reported that their goals were increasing investment in areas either essential for revenue growth, or across the entire business.
Indiana remains well positioned to lead American manufacturing. Hoosier manufacturers are highly competitive in a broad variety of industries and products, and, in fact, one in 10 of the companies in this survey are planning to open a new facility in Indiana in the near future.
A significant number of respondents report that they are onshoring manufacturing back to the United States. Indiana's competitive advantage remains the fact that nowhere else in America allows manufacturers to position themselves closer to their customers and markets, or offers greater advantages in terms of suppliers, workforce quality, and transportation.
Successful manufacturers are continuing to rely on process improvement programs such as "Lean" and "Six Sigma" for implementing change, as well as increasingly taking advantage of advanced automation or smart manufacturing technologies to remain competitive.
Download the complete results of the 2012 Indiana Manufacturing Survey: "Halftime" for Indiana Manufacturing.
####
About Katz, Sapper & Miller
As one of the top 100 CPA firms in the nation, Katz, Sapper & Miller has earned a reputation as a leader in the areas of accounting, tax and consulting services. Founded in 1942, the firm has more than 250 employees and is headquartered in Indianapolis, Ind. Katz, Sapper & Miller was named one of the "Best of the Best" accounting firms in the nation by INSIDE Public Accounting magazine and has been recognized by the Indiana Chamber of Commerce as one of the "Best Places to Work in Indiana" for seven consecutive years. The firm is an independent member of Nexia International, a leading global organization of independent accounting and consulting firms. Learn more at ksmcpa.com.
About the Kelley School of Business – Indianapolis
The IU Kelley School of Business has been a leader in American business education for more than 90 years. With an enrollment of more than 5,700 undergraduate and nearly 2,200 graduate students across two campuses, it is among the premier business schools in the country. Kelley's Indianapolis campus, based at IUPUI, is home to the school's Evening MBA, Master of Science in Accounting, and Master of Science in Taxation programs and a full-time undergraduate program. The part-time Evening MBA program is ranked ninth in the country by U.S. News and World Report. Learn more at kelley.iupui.edu.
About Conexus Indiana
Launched by the Central Indiana Corporate Partnership, Conexus Indiana is the state's advanced manufacturing and logistics initiative, dedicated to making Indiana a global leader. Conexus is focused on strategic priorities like workforce development, creating new industry partnerships and promoting Indiana's advantages in manufacturing and logistics. Learn more at ConexusIndiana.com.
About the Indiana Manufacturers Association
Formed in 1901, the Indiana Manufacturers Association is the second oldest manufacturers association in the country and the only trade association in Indiana that exclusively focuses on manufacturing. The Indiana Manufacturers Association is dedicated to advocating for a business climate that creates, protects, and promotes quality manufacturing jobs in Indiana. Indiana is one of the top manufacturing states in America in the wealth and jobs created, sustained, and supported. More than 50 percent of all employment in Indiana has some connection to manufacturing.
The staff of the Indiana Manufacturers Association has more than 160 years of combined governmental affairs experience and is recognized as experts in many areas, including tax, environment, labor relations, human resources, and healthcare. Learn more at imaweb.com.